2013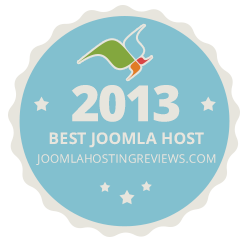 SiteGround has come a long way in the past few years, they are now our favorite Joomla host. Their servers are fast and reliable with many custom options that you will not find at other hosting companies.
Tech support is fast and helpful. In the past 6 months or so initial response times have been less that 10 minutes which is very impressive.
They is a big supporter of to the Joomla project and sponsors just about every Joomla Day.
Most Importantly our sites hosted at SiteGround are fast and trouble free.
We at Joomla Hosting Reviews continue to be very impressed with SiteGround and are happy to award them our "Best Joomla Host" Award for 2013.
Learn More at http://www.siteground.com/joomla-hosting.htm
2012
Once again, for the second consecutive year, we have chosen HostGator as our favorite hosting company. Our decision is based on a number of criteria. They have a large selection of plans including shared hosting up to dedicated server hosting. Their stability, reliability, uptime and speed have all maintained excellent standards. If we have every had a problem, their tech support has been able to resolve the issue. They keep us and their customers happy and thats what has earned them Best Host in 2012.
Learn More at http://www.hostgator.com/apps/joomla-hosting.shtml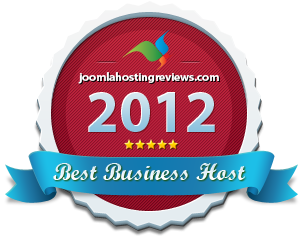 We have chosen Site5 as the Best Business Host Of The Year. We chose them because of their excellent performance in tech support, security, account management, speed and great hosting. They are one of the few companies who went out of their way to simplify the cPanel and add the ability for one account to have multiple sub accounts with their own cPanels. They have excellent, personal tech support who are interested in taking care of each of their customers.
Learn more at http://www.site5.com/p/joomla-hosting/
New to our awards section this year, is the 'Joomla As A Service' Award. This award goes to the best hosting company who's plans all come with a preinstalled Joomla website. This year CloudAccess takes the cake as the Best Joomla As A Service. They provide everything you need for a Joomla website from start to finish. They have a personalized control panel and great tech support. Each technician is trained in Joomla and will even help you install Joomla templates.
Learn more at http://cloudaccess.net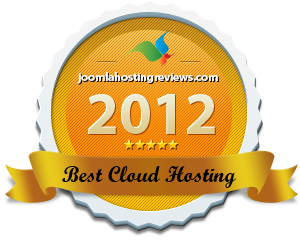 Cloud hosting means your website is stored on several servers all over the country and/or world. Site5 is a company that does this very well. Our sites that are hosted on the cloud servers often perform better and they almost never have downtime.
Learn more at http://www.site5.com/p/joomla-hosting/
2011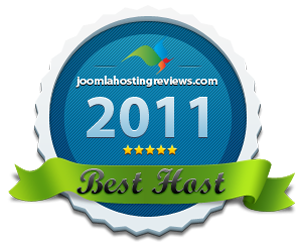 Our favorite company for the year 2011 is HostGator. We like HostGator because of their dedication to great service, outstanding uptime, optimal security and fast speeds. After years of hosting different websites on their shared server plan, it has become clear that they will deliver on high expectations. Whenever we have had a problem, they will work with us to resolve it. It is evident, because of their active Twitter, Facebook and the ability to live chat, that they value being able to connect to customers.
Learn More at http://www.hostgator.com/apps/joomla-hosting.shtml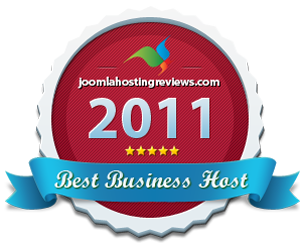 Joomla Hosting Review's favorite business hosting company for 2011 is Site5. This is because of outstanding performance in areas like tech support, security, account management, speed and all around excellent hosting. We use Site5 with multiple account and domain manager to easily allow access for clients, developing sites and much more. Now, when you chat with a support technician, you are able to see a picture of them along with a name. This adds a sense of trust and personality that has been lost by many other hosting companies.
Learn More at http://www.site5.com/p/joomla-hosting/