Carbonite Backup Review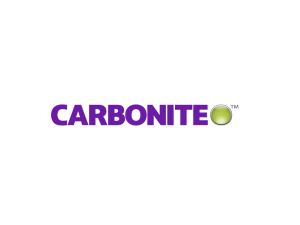 ProsCarbonite is an excellent online backup company that has established itself has a leader in the industry.
ConsOnly basic set of features
Bottom LineCarbonite is a secure and safe backup company that has a plan for any situation. Technical support is available pretty much all the time.
GO
Editor review
(Updated: December 06, 2011)
Big Company, Irresistible Plan
Software Installation:
Fortunately, most companies make the install quick and painless, this was the case with Carbonite. Downloading and installing the software was not hard, and there was no need to restart the computer or anything. The only odd part about the software for mac, is that it runs off your system preferences. This is good because it saves system resources, but it also limits the options available.

Configuring the backup:
Setting up my file for backup was quick and painless. I already knew which ones I needed so it didn't take long. There is an option for an automatic backup, but I didn't have the need for it. However, I would suggest automatic backup if you're not sure what else to do. It's important to note, Carbonite will not automatically select files over for 4 gigabytes. This is not going to be an issue for most, but since I deal with large video files it was something I had to research in order to figure out.

Backing up:
Carbonite chooses to backup all the files at once. This is not really an issue, but it takes a really long time. Expect it to take a few days. After the backup completed I noticed that several files within folders were not backed up like I thought they would be. The selection process with is sporadic. At first I thought it would back up all files under 4 GBs, but then I realized some of the ones it skipped over were less than a megabyte. I'm not sure why that happened.

Restore files:
Although it requires a thorough selection process to backup your files, the restore process is pretty easy. You see the files structured the same as they are on your computer. Then selecting the location to download them to is only one step before the download starts. Quick and painless (depending on Internet speed and file size).

Accessing for viewing:
Accessing the files is pretty easy. There are several apps available for phones, and I use an iPhone. The app for iPhone works well. It offers you the option to email yourself the file. This will work with documents and pictures, but not anything too large. It's quick and responsive.

The Remote access for getting to your files online is very easy as well. If you can get to Carbonite's website you can get to your files. It also is structured like the files on your computer and is easy to navigate. One click will download your file.

Auto throttling
For people or businesses consistently changing or updating their files the auto-throttling feature helps to protect computer's resources from getting tied up (slowing you down on the internet). Carbonite does not have an auto-throttling feature. Instead they have a 'low profile' mode which takes up less system resources, but it must be selected manually.

File versioning easy or hard?
File versioning in Carbonite's software was not available for me. However, on their website it appears that they will store multiple versions of files in an archival structure. I have not seen this because of the short duration in which I have had the software, but I'm sure their sales staff could fill you in if you're curious.

Conclustion:
Carbonite works well for the price and service. I would recommend them if you do not have high requirements for online backup.
Pros and Cons
Pros
Easy to use
Accessible
Lots of room for storage
Decent price
Cons
Odd versioning structure
Selecting folders does not auto include all the files within that folder
Was this review helpful to you?
Learn More at Carbonite
User reviews
There are no user reviews for this listing.
Personal Backup Plan
Backup Multiple Computers
Additional Cost
Company Details
Company Headquarters:
Boston, MA
First Year in Business:
2005
Notable Features:
Unlimited backup. Upload limit is 4GB file max
Good for Home and Small Business
Windows, Windows Server and Mac
Some basic sharing features
SSL Encryption on Geo-Redundant Storage
Company Highlights:
Carbonite is, perhaps, one of the largest and most well-known online backup companies. They offer a pretty solid unlimited backup plan which comes with some good features and excellent tech support.
View All Carbonite Prices & Plans
Carbonite Company Info
Headed by CEO David Friend, Carbonite Online Backup Services was launched in 2005. Carbonite was the first company to offer fixed price backup model. With a customer base in over 100 countries in just 3 years of its existence.
This easy to use, affordable and secure backup service can be ordered from numerous channels like corporate websites, Carbonite distributors and you can even purchase the services from various retailers. Carbonite runs partnership programs with almost half of the Top 500 web retailers.
Carbonite Facts:
Located in Boston, MA
160 employees
BBB Accredited with multiple security features
Founded in 2005 by David Friend and Jeff Flowers
Backed up over 69 billion files in 2006. More than 150 million every day. Restored over 6.1 billion files.
2 Secure Data centers. Boston and Somerville, MA
Carbonite Plans
Carbonite services can be enjoyed for fixed fees of about $54.95/computer/year for unlimited data storage. This price is inclusive of all taxes and there are no hidden costs. You can enjoy a two year subscription by paying just $99.95 and three year data backup and storage for $129.95.
Carbonite Features
Once you download and install Carbonite a small program runs in the background that looks for modified and newly added files that needs to be backed up. As Carbonite runs as a background process not much is to be done by the computer owner making the entire backup and restore procedure extremely simple. Carbonite software works in both windows and Mac operating systems and has following features:
By default all the files available in the Documents & Settings folder of the system is automatically saved in the backup server. The default backup procedure doesn't include store system files, program files, videos or other data exceeding more than 4GB in the backup server but these files could be manually added in the backup folder located on your system.
A mix of encryption techniques are used to provide rock solid protection to your stored data. Files are doubly encrypted before the data is being transferred from the user system to the backup server and the data remains encrypted even on the storage system. It becomes impossible for any hacker to access the data without knowing the user's secret password.
Also the backup and restore procedure is usually carried out by Carbonite software when the user's system is idle, without impacting the systems performance. Similarly restoring your lost data is also as simple as 1, 2 and 3 by performing just few clicks on the console.
Carbonite Support
Carbonite website has a rich library of online help files that can help you find answers to any query that you may have related to software support. Alternatively, you can make use of live chat help support from 6am -11PM EST on weekdays and from 9am to 5PM on weekends.
24/7 Support: Yes
Phone Support: Weekdays 9a.m. – 5p.m. EST, weekends 12p.m. – 4p.m. EST. Excluding holidays
Email Support: Yes
Ticket System: Yes
Live Support Chat: Yes (24hrs/day)
Support Forums: No
FAQ & Knowledge base: Yes
Video Tutorials: Yes
Company Blog: Yes
Conclusion
With unlimited data storage functionality for less that 5$ per month, Carbonite online backup software is highly recommended for all PC users.
View All Carbonite Prices & Plans