LunarPages Review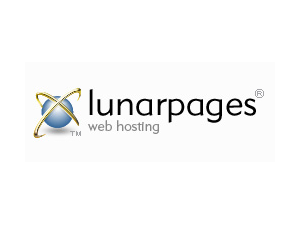 ProsLunarpages has servers that are great for Joomla, tech support is responsive, and an easy to use control panel.
ConsServers can be slow at times, you may need to purchase addons that are standard at other hosting companies
Bottom LineLunar Pages is a hosting industry giant, and the work great with Joomla, tech support is responsive. They are worth considering for you Joomla site.
GO
Editor review
(Updated: April 15, 2010)
Control Panel Features
9.0
Excellent Service and Web Servers!
My experience with Lunar pages has been great so far. The sign up was super easy. One very nice feature was I received a single email with all the critical login and set up information. Many other hosts will spread this info across many different emails. This is not that bad when you set up your account but it can be a real hassle when you are looking for the set up information 6 months or a year from now.

Single Sign On
Another big plus is only one username and password for everything. Other hosts have one sign on for billing and another for web control panels. Lunarpages has one sign on for everything. This is the same set up that site5 has.

Great Uptime
The uptime and server response rates have been great. I am using Pingdom to monitor the my Lunarpages hosting server. The site has not gone down yet. In addition the response rate has been very fast and very consistent. I never saw this type of consistency with Dreamhost or HostRocket.

Tech Support
I can not accurately comment on tech support yet because I have not needed their help. I am going to give them a 9. I will give them the benefit of the doubt. When I do need help they will have the chance to move up to a 10 or drop to a lower number.

Conclusion
I have been very happy with lunar pages. In fact a few of the other hosting companies do not seem quite as good after seeing how easy and professional lunar pages is. Give them a shot I do not think you will be disappointed.
Pros and Cons
Pros
Smooth Operation
Helpful & Friendly Tech Support
Was this review helpful to you?
Learn More at LunarPages
User reviews
4

reviews

Site Speed & Uptime

7.3 (4)

Control Panel Features

7.3 (4)
Control Panel Features
9.0
Great - unless you need tech support ASAP
Wait time for tech support is any where from an hour to a day -- unless it's Friday and then you'll wait longer ... That sucks. No problems for years until I needed tech help. I gave them 4 stars because when I finally do get through to someone, they're knowledgeable.
Pros and Cons
Pros
Everything about the company & product is what is expected.
Cons
Wait time for tech support
Was this review helpful to you?
Control Panel Features
9.0
Great value; very few issues
I have nearly a dozen sites on Lunarpages. Support tickets are always answered within a few hours, and I go to the forums if I need a quicker answer.
Pros and Cons
Pros
Great price - even the basic account is unlimited in many ways. Admins on the support forums are very good.
Cons
I have had a few glitches over the past 3.5 years, but they all got fixed.
Was this review helpful to you?
Control Panel Features
10.0
Not the best but neither the less
Not a Lunarpages rogue competitor but a 2 years Zero-issues customer and counting...
If another host is better it may be the best.
Was this review helpful to you?
Control Panel Features
1.0
awful setup and service...
I wanted to try and set up a new hosting account with them...and if I liked it I would have transferred all 4 of my sites over. But...I couldn't even get one account set-up. I signed up, and my credit card cleared...and then two days later I had heard nothing at all and the account wasn't letting me sign in. So, I emailed them, and they said they would work on it. A day later (3 days later!) they finally contacted me to say they needed a number to call me at to verify the account. I run several websites with travel information, including a website about Paris France. Thus, my job requires I travel a lot. I told them that currently I was in Paris, and they could call me there, and gave them 2 different numbers to reach me at. THEN, without bothering to verify that I run an international business nor to verify that I run a website about Paris NOR to verify that I have a valid business license NOR to even bother to call me and chat with me about it they just email to say, "Your current address doesn't match the account address so we've deleted your account". WHAT?! They asked for my numbers, and then didn't even try to call me to verify anything. They made zero effort what so ever. How unglobalized can a business be? It would have been little trouble for them to actually call me, or to verify things. It's the most absurd thing I've ever seen, and as annoyed as I've been with SiteGround at least they weren't that bad...I also never had any problems with GoDaddy either. Clearly having new business from global companies isn't important to Lunar, and I don't plan to bother trying to sing up again after having wasted an entire week of my time with their clearly incompetent customer service. Sorry to be so harsh about them: but really, that is the reality of it.
Was this review helpful to you?
Hosting Plan Features
Domains in Plan:
Unlimited
Domain Registration:
First Year Free
Joomla Features
1 Click Installers:

Fantastico:

Ion Cube Support:

MySQL Features
MySQL Databases:
Unlimited
phpMyAdmin:

Company Details
Company Headquarters:
Anaheim, CA
First Year in Business:
1998
Notable Features:
Fantastico 1-click Joomla install
24/7 phone support
Wide Range of plans
Unlimited Space, Transfer and Domain Hosting
People have reported support issues
Company Highlights:
With over 10 years of online hosting experience, LunarPages has been around longer than most hosting companies. They offer a great plan for the price.
View All LunarPages Prices & Plans
About LunarPages
Lunarpages was established by Ron Riddle in April 2000 as part of the Add2Net corporation's expansion. Headquartered in California, the company owns three data centers and serves over 150,000 customers. Lunarpages employs over 100 dedicated staff worldwide and the company states "we will never lose our close-knit feel and attitude because our connections with each other and our community are the reason for our success."
Lunarpages Plans and Features
Lunarpages provides two shared hosting plans. The 'basic' plan costs $6.95 per month, serving 1.5 TB of storage and 15 TB of monthly bandwidth. By signing up for their 12 or 24-month plan, you get a free domain for life. Aside from your primary domain, you're allowed to host up to 10 add-ons, unlimited subdomains and redirects. Databases and email accounts are also unlimited.

Supported programming languages include Ruby on Rails, PHP, PERL, PYTHON, and ASP. As a brilliant add-on to the hosting plan, there are over 35 free Fantastico scripts included. A few of these are shopping carts viz. osCommerce, Cube Cart, Zen Cart, a shared SSL certificate, 3 blog installations including b2evolution, and content management software.
The 'business' plan costs $21.95 per month and brings a few added features. These include 4 free domain names for life, unlimited storage space, free SSL installation, and one free dedicated IP address.
Lunarpages guarantees you 99.9% uptime, all backed by a 30-day money back guarantee.
Hosting Environment
The user control panel at Lunarpages is a version of the industry standard cPanel software. phpMyAdmin comes pre-installed in your control panel, from whence MySQL databases can be managed.
Joomla Features
If a Content Management System (CMS) is vital to your website, you can find Joomla as a one-click install from Fantastico.
Tech Support
With over 120 full-time support professionals, Lunarpages' award-winning support system is undoubtedly one of the best in the industry. Their support options include a helpdesk, where support tickets can be submitted, and a 24-hour toll-free telephone. There is also a very extensive knowledgebase, a glossary, and lots of flash-based online movie tutorials for beginners. In addition to all this, lunarforums.com hosts forums where thousands of Lunarpages customers participate and help each other out.
Conclusion
Lunarpages is certainly a company that will be around for a long time. With exceptional features, top-notch support and some of most advanced equipment in the hosting industry, Lunarpages is a very viable choice for your Joomla site. If you're looking for a premium web host with lots of experience and integrity, you can't go wrong with Lunarpages.
View All LunarPages Prices & Plans