BlueHost Review
ProsBluehost is an excellent host with fast servers at a great price. No issues running Joomla, perfect for those with basic hosting needs
ConsNo Advanced hosting plans such as VPS or Dedicated servers
Bottom LineBluehost is one of the best in the business. The provide a great service with minimal hassle, servers are fast and the price is competitive, however they do not offer any advanced hosting plans.
GO
Editor review
Control Panel Features
9.0
One of the Best
****Update May 2012****
We have continued to have the same positive experience with Bluehost. They have a great simple all-in-one plan, solid servers, easy to use control panel and excellent tech support. Their not the best for dedicated or VPS hosting. Joomla is easy to use and install on their servers.

****Initial Review April 2010****
When it was time review Bluehost, we were interested to see what they would deliver. Their site is not flashy or overstated, they offer one shared hosting plan and they have a great reputation among the Open Source crowd.

After signing up and installing Joomla, we were impressed with the Bluehost setup. The control panel is easy to understand and use. The servers are reliable and fast. We really like that Bluehost also offers simplescripts in addition to Fantastico to install Joomla. Tech support lived up to our expectations and even surpassed them in some instances.

Available Upgrades
While Bluehost offers one plan option. After you have your account you can upgrade to the Pro Package for $14.95/month. The other upgrade is to purchase a dedicated IP address for $2.50/month or $30/year. SSL Certificates are $45/year. The price on the pro package seems a little high while the price on the dedicated IP address and SSL cert seems inline with industry standards.

The top benefits we found with Blue host are:
* Organized, easy to use control panel (cPanel)
* Fast Reliable Servers
* Helpful Tech Support
* Ability to add dedicated IP address if needed

Conclusion
Bluehost is worth checking out if you are looking for a new Joomla Hosting company, we have been please with their service and expect them to continue providing the same great product.
Pros and Cons
Pros
Fast servers
Easy to use control panel
Simplescripts to install Joomla
Resonable Price
Cons
No VPS or Dedicated Servers
Was this review helpful to you?
Learn More at BlueHost
User reviews
Control Panel Features
4.5
Alternatives are better
Hosting is very important part because without hosting website cannot be shown worldwide on the internet.I got hacked two times of using this hosting.Hosting should meet the customer ends.Bluehost is really not good and its server is also down.Customer service is not at all reliable.I did another hosting and I am very satisfied.It is very reliable also and supportive .So I recommend you all to go to this link
http://www.altafkhatri.com/Technical/How-to-host-website-for-cheap/Good-performance/free-hosting-information
Pros and Cons
Pros
Very useful and features are good
Cons
Not at all reliable and service is slow sometime
Was this review helpful to you?
Control Panel Features
10.0
5+ years and many happy clients
I've been with BlueHost for about 5 years and have hosted many sites and clients with them. They by far have the best customer service from any of the hosting companies I have worked with between my sites and my clients' sites. You can't beat the service and price and the ease of use of their services and control panel features. The one time I had a site with major email issues, BH worked with me consistently until the problem was resolved. They are a great state-side company that doesn't sub out over seas and they know their stuff. If you want to know snow-ski conditions for Utah, they'll even provide that when asked ;)
Was this review helpful to you?
Control Panel Features
10.0
Glad I went with bluehost
I am new to Joomla and to hosting, I decided to go with blue host since hey were a large well know hosting company and they seemed to work well for others.

The signup was easy and so was the set up of my joomla site.

No issues yet so I am very happy with them.

Just wish I had not spent so much time trying to select a hosting company. I am up and going and now it is time to learn more about Joomla.
Pros and Cons
Pros
Very helpful
simple to use hosting
Was this review helpful to you?
Control Panel Features
7.0
Secure your site
Account was PERMANENTLY suspended after being hacked for the third time. No warning, no mention of '3 strikes' rule in TOS, no nothing. I went through all the clean up, called to reactivate and was told 'we can't host your domain any more - a church site that was hacked.
Pros and Cons
Pros
price is right; lots of features; unlimited B/W & storage
Cons
service turned from good to non-existent in an instant
Was this review helpful to you?
Control Panel Features
5.0
Multiple Account Suspensions after not honoring or
Don't bother with bluehost. I'd rather go back to Netfirms at this point who is really bad. They pulled shady stuff trying to get more cash out of you but never tried changing their TOS really dumb like this.

Half way through my yearly contract Bluehost changed my terms of service to limit the number of "files" on my account. Although I don't have even a few percent of the maximum disk space use, after this terms of service change my account has been suspended multiple times due to "excessive numbers of files". What happens is Joomla and other open source web apps create a bunch of temp files and in my case I've determine without warning bluehost has suspended my account. This is completely unexceptable hosting and questionably breach of contract on bluehost's side. If they're going to suspend an account after a TOS change, it would seem required to refund at minimum the pro-rated contract and more likely the full contract if they cannot meet their original agreement. Once i get this resolved I'm changing hosts and never coming back. BLUEHOST IS NOT REALLY JOOMLA FRIENDLY. If you're going to put up a static site with a few photos of your cat and dumb children, it would be a good host. Otherwise go somewhere else.
Pros and Cons
Pros
When it works, it works.
They answer the phone
Reasonably unexpensive
Cons
I'm putting one star for uptime as Bluehost has not honored their TOS which I agreed to but rather changed it under a fog of "we can change at any time" type terms.
Was this review helpful to you?
Control Panel Features
10.0
Bluehost
Best hosting company I've ever seen hands down.
Was this review helpful to you?
Control Panel Features
10.0
So far so Good....
I've only been with BlueHost for two months now. I switched one of my websites over from Siteground (who are terrible by the way, don't ever use them) so that I could test BlueHost out. The setup was easy and fast. The admin management area is easy to figure out They transferred my domain no problem and it is included in my hosting. They use the usual CPanel and Fantastico which so far seem to work fine. And the customer support so far seems great. So far so good and zero complaints. I will return in a year to post another review after I've had more time with them. The only thing I would quibble about is that you can't have all your websites in one admin account. They require a separate admin account for each website you have, and that means you also can't have separate CPanel login that is separate from your admin account login, which is a problem as sometimes I have to give access to programmers to my CPanel, but don't want them to have access to my admin area for my website. I hope that they will change this in the future since other hosting companies do allow that one have all their websites under the same main admin account, each with its own CPanel access. But, everything else has, so far, been great.
Was this review helpful to you?
Control Panel Features
10.0
Best around, but not perfect
Uptime is great, with lots of backend features. Customer support is good, but help seems to be selective. I've asked about ftp issues twice and they haven't responded. Other minor issues have been fixed immediately. A little costlier than others, but you get more for your money.

I've used quite a few hosts in the last two years, and bluehost is the best. Unlike some other well-known hosts, they don't constantly bombard you with annoying marketing. It's good hosting, pure and simple.

In regards to Joomla!, I've never had an issue with the hosting. Can't say the same for other hosts.
Was this review helpful to you?
Control Panel Features
10.0
BlueHost is great
Great site. Easy to use. Very fast. It has everything.
Was this review helpful to you?
Control Panel Features
10.0
I Love BlueHost
BlueHost is currently my favorite shared hosting provider. I have had very small downtime issues (maybe 2 times per year for about 1 hour on 1 of 10 sites) but I think that's pretty good for shared.

They continually add new features (like SimpleScripts, Postini, etc...) and have updated their UI regularly. Their cPanel functions/scripts work very well. I have also had very good experience with their support.

I think the only minor (very minor) quibble I have with them is their CEO's (Matt Heaton) blog. It doesn't seem very professional although, in his defense, he says it is his "personal blog." He is obviously very bright, but I simply think the image should be a bit more corporate/professional. I would be embarrassed if a client stumbled upon it and said "THIS is who you are hosting our corporate site with."

Overall, I feel like BlueHost is committed to providing a continually better product. I feel like others (Lunar, for example) spend more effort on marketing than on the actual product.
Was this review helpful to you?
Control Panel Features
10.0
Good Support for Joomla
As a relatively inexperienced Joomla user, (I have installed 3 sites) I found BlueHost easy to use and full of features. I was able to get SEO working properly, which I could not do on another hosting company which a client chose. Pages load very quickly. It did take a while for support to reply to a question. I'm very happy with this company.
Was this review helpful to you?
Hosting Plan Features
Domains in Plan:
Unlimited
Edit DNS Zone File:

Joomla Features
1 Click Installers:

Fantastico:

Ion Cube Support:

MySQL Features
phpMyAdmin:

Company Details
Company Headquarters:
Provo, Utah
First Year in Business:
1996
Notable Features:
Unlimited space and bandwidth for $6.95/Month
An attractive array of pre-installed scripts
Easy to reach phone tech support
15 years of hosting experience
No VPS or Dedicated Server plans
Company Highlights:
Bluehost is one of the most versatile Shared Hosting companies. Offering a wide range of web applications from within their dashboard. They have been in the hosting business for 15 years. Use Bluehost for the best value shared hosting plan.
View All BlueHost Prices & Plans
HostGator Company Info:
HostGator was founded in 2002 by entrepreneur Brent Oxley in Boca Raton, Florida. They now host over 700,000 websites and 1.8 million domains, making Host Gator one of the biggest hosting companies.
All Hostgator servers are located in four Dallas, Texas data centers, owned by ThePlanet.  HostGator has over 260 employees and over 10,000 independent resellers.
HostGator Plans and Features:
Hatchling ($4.95)
Baby($7.95)
Swamp($12.95)
The Hatchling Plan has Unlimited Disk Space and Unlimited Data Transfer.  There is no contract and you can test their hosting for as short a period as one month with a 45 day money-back guarantee. The hatchling plan is is less than the baby plan because you can only host 1 domain.  Many times 1 domain is all that is needed.
The Baby Plan, $7.95 per month, lets you host unlimited domains including addons and parked domains, plus Unlimited Disk Space and Unlimited Data Transfer, A free private SSL is thrown in the deal as well.
The final Swamp Plan, $12.95 per month, steps up to Unlimited Disk Space and Unlimited Bandwidth.  Another additional feature is anonymous FTP.
With all accounts you can create unlimited email accounts, autoresponders, FTP accounts and MySQL databases. Most of today's popular scripting languages are supported including cgi, php4 and php5, Ruby On Rails, SSH, Perl, Chilisoft ASP, Python, CronJobs etc.
Additionally, you are offered over 52+ one-click-install scripts. A small list of these includes b2evolution, WordPress, Drupal, Mambo Open Source, PHP-Nuke, Help Center, phpBB2 and of course Joomla, FAQMasterFlex, AccountLab Plus, PHPlist HOT!, Advanced Poll, dotProject, Soholaunch Pro Edition, PhpWiki, Agora cart, OSCommerce, Zen Cart and many, many more.
All plans backed by HostGator's 45-day money-back guarantee.
Hosting Environment
Your account is administered on HostGator using the cPanel control panel. From here, you can configure any aspect of your account including your email addresses, FTP, website files, additional software etc. MySQL is managed through phpMyAdmin found within cPanel.
Joomla and HostGator
Joomla runs very well on HostGator's cPanel Servers. We run several sites at HostGator and on different servers. The results have all been good.
A live site currently running on HostGator: www.Paper-Shredder-Reviews.com
Joomla Install is available as a one-click-installation feature along with the Fantastico script that comes preinstalled. No technical knowledge is required for installing Joomla and the entire process can be done in less than 5 minutes.
Tech Support
HostGator sports an excellent support department that stands head-and-shoulders above most competitors. Technical support can be reached through toll free telephone, email and online chat all available 24/7.
There are also dedicated FAQs and a forums section with over 13,000 members participating.
HostGator Conclusion
HostGator is one of the hosting industry leaders. The company values its customers so highly that you can actually request for the owner to personally look into your issues. Not only that, you get good value for your money with their feature-rich hosting plans, backed by a 45 day money-back guarantee.
Check out the HostGator billboard a few miles from my house: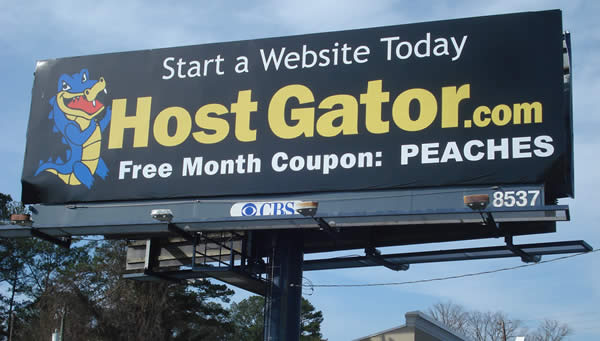 HostGator is one of the best options for Joomla.
View All BlueHost Prices & Plans