Responsive Templates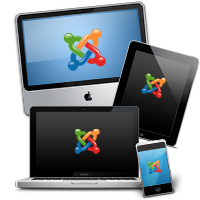 This is our section on responsive templates. These type of templates are going to be how many of the newest themes are developed for many different platforms.
With Joomla, responsive templates means that you will have greater control over the way the templates looks at different sizes. It will have the ability to shrink down to the size of an iPhone or iPad as well as large displays on desktops.
More About Responsive Templates
" frameborder="0" allowfullscreen="true">
Top Reasons To Get Responsive Templates
Over the next few years more and more people will be using tablets and smart phones to surf the internet
Responsive templates make your website look good at all sizes
Google expects good websites to have responsive templates and they may increase your ranking
How does a responsive template work?
Most responsive templates are built with a framework built by the creator. Frameworks help with compatibility, giving the companies a quick starting point to create new and improved templates. The technical way that a responsive template works is with a Javascript CSS integration called Media Queries. It asks the browser what size it is viewing the webpage is at and reacts by moving conditioned items to fill that browser size.