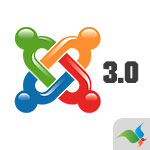 You may be wondering if some of your Joomla extensions will be up to date when you upgrade to Joomla 3.0. We have gone through the list of Extensions that we use to see if they are up to date. Some are and some are not.
If an extension that you're looking for is not listed here, visit the Joomla Extension Directory. All Joomla 3.0 compatible extensions will have a an icon next to their title to show they are up to date.
Joomla 3.0 Ready extensions:
K2 for those of you who are big K2 fans you will be happy to know that version 2.6 supports Joomla 3.0
http://getk2.org/blog/item/988-k2-v260-for-joomla-15-25-30-now-available
JoomRes is a hotel booking extension for Joomla and it is working on Joomla 3.0 Alpha 2 http://www.jomres.net
Akeeba Backup
Akeeba Backup is one of the most essential extensions for Joomla. They are ready for Joomla 3.0.
Advanced Module Manager
This NoNumber extension provides easy to organize and manage modules. It is ready for 3.0.
JCE
Joomla Content Editor (JCE) is another highly used Joomla extension. It is a WYSIWYG editor that makes content creation and formatting simple. It is ready for Joomla 3.0.
Modules Anywhere
Put modules anywhere on your Joomla site. It is now ready for Joomla 3.0.
Kunena
This forum manager is one of the post popular for Joomla. It is not ready for Joomla 3.0.
VirtueMart
VirtueMart is not ready for Joomla 3.0. This is an ecommerce extension for Joomla that is very popular.
Xmap
Generate Sitemaps using the menu systems inside of Joomla.
Joomla 3.0 Under Development Extensions:
Well our Joomla 3.0 Ready was so short we decided to create a list of extension where the developers are actively working on J3.0 compatibility
No Number Extensions
In a blog post stating NoNumber was stopping J1.5 support in September 2012, I found this information
I will be working hard on getting all NoNumber extensions ready for Joomla 3.0. And aim at getting them all ready before the launch of Joomla 3.1 (6 months after the release of 3.0).
So it looks like Peter will be working to get his extensions updated as soon as possible. As individual extensions become 3.0 Ready I will add them to the above list.
Other Joomla Extension Resources