Joomla comes with the ability to easily update your template which keeps your site fresh and up to date. Design is one of the most important elements in modern websites and it's much easier to keep up with templates than hire someone to design your site from scratch.
Shape5 - New Vision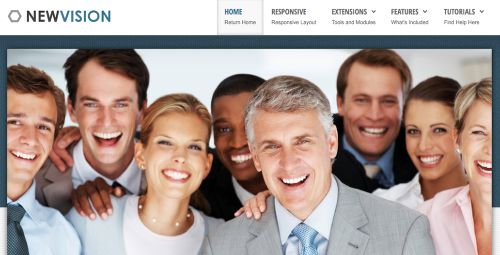 Compatibility: 2.5, 3.0
S5 Vertex framework
Responsive layout
7 custom module suffixes
S5 Flex menu
Fluid or flexible width template
CSS 3 styling
PSD's included
Compressed core files
New Vision is an excellently designed template with multiple configuration options and tons of features. It has a bold look with easy to change colors and textures. The look is well spaced out and gives visitors room to read the text without feeling overwhelmed. The menu is easy to navigate and the sub-titles make it easy to understand what you're clicking on.
RocketTheme - Chapelco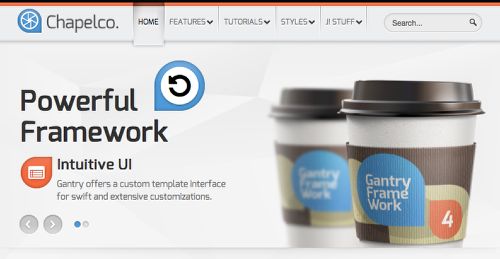 Compatibility: 2.5, 3.0
Responsive layout
76 module positions
8 preset styles
RokSprocket layout
RokAjaxSearch styling
Styled support for responsive K2 layout
Gantry framework
Custom typography
HTML 5, CSS3, LESS CSS
Chapelco approaches warm and friendly feeling of business. I has warm brown, tan and orange accents which are welcoming to guests. The overall design is simple yet expressive enough to get the point across. You get enough text that it reads easily, but is not overwhelming. Since Chapelco is built on Gantry, it has multiple layout options that can be adapted to many different screen sizes.
Gavick - Financial Business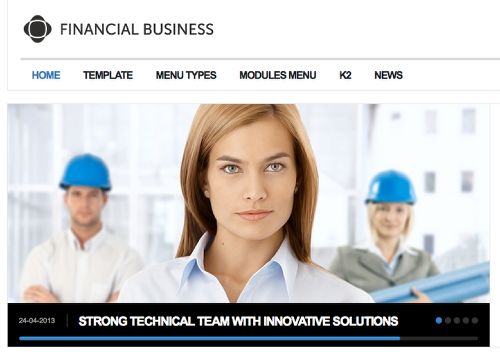 Compatibility: 2.5
Based on Gavern framework
Responsive design
Custom Fonts
Social API
HTML 5 & CSS 3
Cross browser compatibility
With the Financial Business template you get a clean design with solid shapes and structured text. Use module positions for sliders and keep visitors intrigued pretty pictures.
Joomla Bamboo - Lifestyle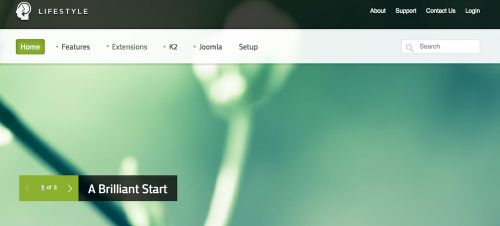 Compatibility: 1.5, 2.5
Responsive design
13 color schemes
Zentools compatible
Builtin K2 template override
HTML 5 & CSS 3
Based on Zen Grid framework
JS & CSS compression
Flexible width and multiple menus
Lifesstyle template features minimal design and bold colors to accent your content. This design shows off your content in modules with pictures and the use of sliders to give your website more life. It's built around negative space which feels open and artistic.
Joomla Shack - Studio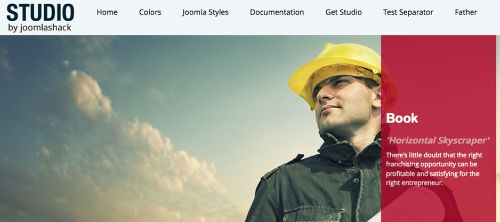 Compatibility: 2.5, 3.0
Built in slider
Accordion style menu option
Uses Wright 2.0 framework
Update styling without affecting core code
Loads fast
Oficina is a simple yet versatile template. It comes with a large image slider, multiple color options and module assignments. The design elegant and comes with the ability to change HTML and CSS without touching the core files.
Templatemonster - Qoro
http://www.templatemonster.com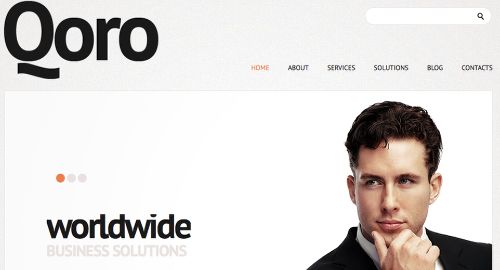 Compatibility: 2.5
Responsive design
Administrator panel
2 column layout
PHP and PSD sources
Qoro is a simple template that has bold colors accented by a warm orange color on the links and highlighted areas. This template gives you a straight forward website with a very unique look that is easily adoptable to your business needs.
YouJoomla - Business Report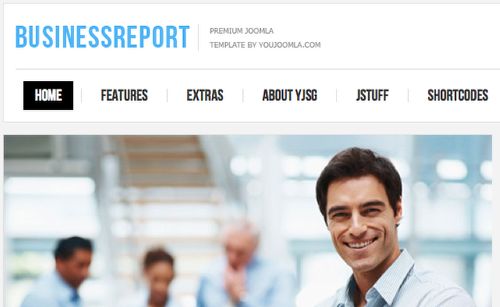 Compatibility: 2.5, 3.0
YjSimpleGrid framework
Cross-browser compatibility
Custom modules
YJ mega menu included
Google font types included
Template administrator panel
Custom K2 extension edits
Responsive layout
Custom shortcode
HTML5 & CSS3
Business report gives you a clean, exciting template with plenty of options. Use the modules to load sliders or display content.
Themeforest - Proma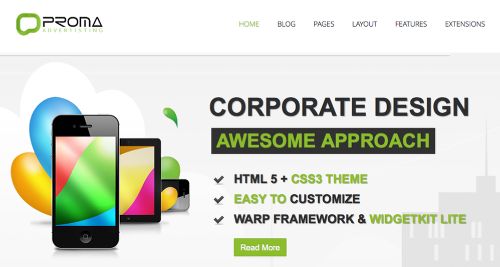 Compatibility: 2.5, 3.0
Warp Framework
3 column design
Responsive
HTML, CSS and JS files included
16 languages
Defined a logo and favicon
Google Analytic integration
Fluid layout
Proper code markup
Proma by gives you a colorful, bold look with modern color and design. This template has punchy colors with subtle undertones. The structure is well spaced out and gives your eye plenty of space to skim through text to find what you're looking for.
JoomlArt - JA Argo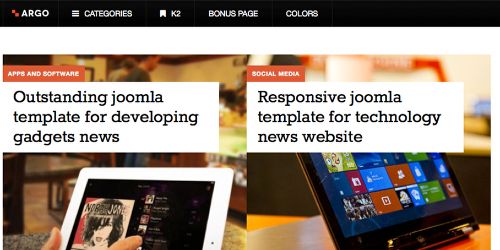 Compatibility: 2.5, 3.0
T3 framework base
Administrator template control panel
Responsive design
Lots of menu configurations
LESS and CSS integration
Built with Twitter bootstrap
Layout configurations
ThemeMagic for simple customization
Optimized CSS
Argo comes with a very visually based template that helps you deliver important content front and center. It's colorful design keeps users intrigued as they peruse through the articles. Custom menu options and font choices make it easy to mold this template into what your business needs.
Template Resources