(This Article will have the complete list of 3.0 features once it is released. Bookmark this page and visit us closer to that time)
Joomla 3.0 is scheduled to be released in September 2012. With this upcoming release lets look at what we can expect.
Joomla 3.0 Release Dates
Alpha 1: July 12, 2012
Alpha 2: August 16th, 2012
Beta 1: September 6th, 2012
Beta 2: ???
Stable Version: September 26th, 2012
Joomla 3.0 Beta 1 Released
As soon as the first beta was released we downloaded and installed it so we could create a video. We thought it would be good to have a video overview of the install process.
Very Very Cool Stuff. I am excited about the official release.
The biggest changes I noticed so far:
New user interface which is a huge improvement
Simplified Installation Process
Improved Article Edit screen
Mobile Ready
Just better all around
Joomla 3.0 Preview
New User Interface Overhaul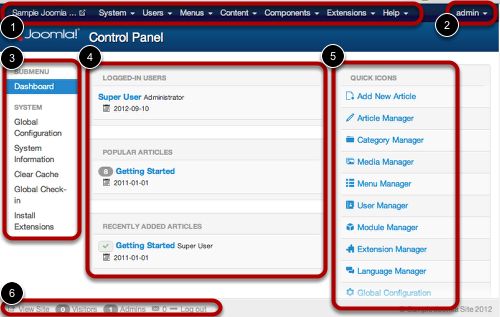 The Main Menu to access all of the Joomla features is simplified and easy to use.
User Account - Accessing the user information is quick and easy. It's always available in the top right corner.
Main Site Settings are located on the left column for quick access to site-wide system changes and preferences
Dashboard Modules - Recent events, changes and user footprints are displayed for first-glance information.
Quick icons display all crucial and highly used Joomla features on the right column.
The footer menu keeps track of simple information and provides a link out to your front end and log out link.
Simplified Installation process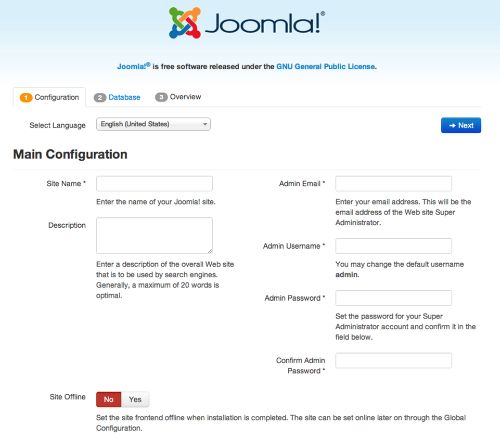 It's only 3 steps! The process in Joomla 2.5 and previous versions was ok, but did not have the simplicity. With the new design all the important elements are displayed in key areas.
Improved Article Edit Screen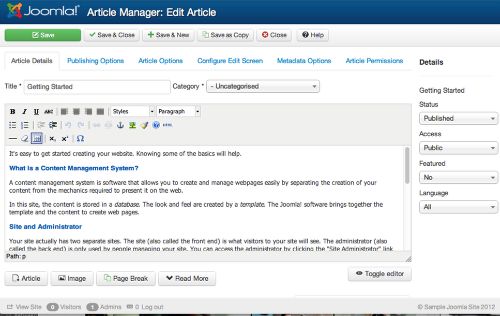 New completely redesigned look for article editing. Puts the text editing front and center. Also, you will notice the other tabs (Publishing Options, Article Options, etc...) that used to be awkwardly located on the right side column are now located along the top next to Article Details.
Mobile Phone Optimized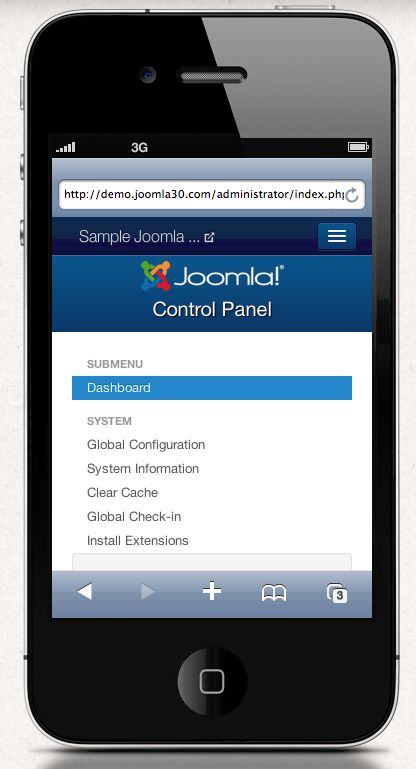 The mobile view comes default with Joomla 3.0. The backend (administrator side) is responsive and changes based on the size of the browser viewing it.
What we know so far...
New UX (User Experience. Mentioned in this article http://magazine.joomla.org/issues/issue-feb-2012/item/673-roadmap-for-a-great-Joomla-3-UX).
New administrator backend and frontend design for better user experience.
Introduction of core JUI library (Joomla User Interface). This will mostly be for component developers.
Joomla 3.0 Default Template. According to Kyle Ledbetter, UX team member, he said, "I'd love to have one ultimate, flexible, simple template produced." He goes on to mention it would take advantage of the latest template features as well as rethinking sample data.
Mobile compatibility by default. Joomla 3 will come with mobile viewing by default. It is expected by next year that a majority of internet users will be doing so via their mobile devices. http://community.joomla.org/blogs/community/1664-3-3.html
3.0 is a "Major" update
According to the Joomla developer strategy, releases with remaining zeros like 3.0.0 are considered Major releases. This means that it will have a high degree of changes compared to the last release. We do not know yet what exactly the changes will be so come back to this page to find out. Learn more about the releases here: http://developer.joomla.org/strategy.html
Joomla 3.0 Hosting
Looking for a host for your new Joomla 3.0 site?
Check out Joomla 3.0 Compatible Host List