Websites are expected to be up to date and have fresh content. But many people are scared to start a website because they think it will be impossible to stay up to date. That's where Content Management Systems come in. Content Management Systems (CMS) make it easy to keep sites up to date by giving you a rich set of features like: administration, content creation, content editing, multiple user access, customization, and interactivity.
In this article we will cover the main features that make a content management system great. For examples, we will use the CMS that is on this site, Joomla!
Joomla is an open source project which means it's a platform developed by people who love creating websites so much that they contribute time and money to Joomla. It also helps that it is FREE! Check out more about Joomla.
Administration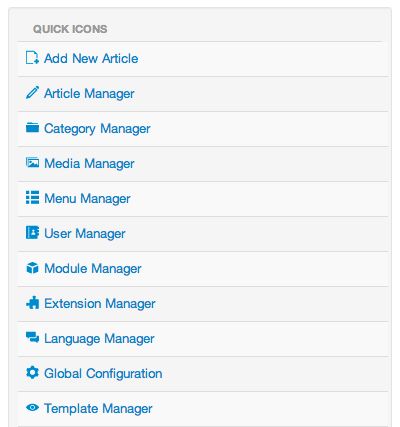 So it's time to create some articles, where do you start? It's helpful to have an easy to navigate interface. This makes it much easier to find the areas of the website that you are looking for. As you can see from the picture above, Joomla has a nice, easy to access button list. From there you can add new articles, manage media, extensions and reach the Global Configuration right from the home screen control panel.
Content Creation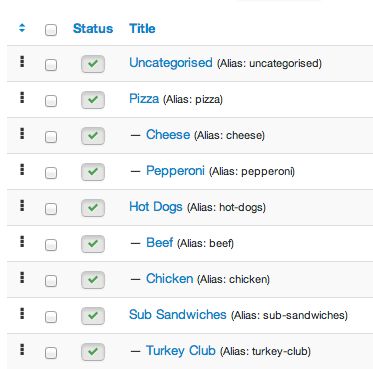 In the picture above you can see that it is easy to create categories that makes sense for your website. Joomla for example provides category and article managers that help you keep the content organized. Using other features like menu items you can display categories in a list or blog format.
You can have categories and subcategories to organize your articles. This makes the articles easier to find for the content creator. Creating new articles and blog posts should be simple to do in a CMS.
Content Editing

In the picture above you can see that with some plugins like JCE Editor, you can really get a good wide range of tools when using content editors.
Maybe the whole website thing seems a little daunting because of all you have heard about 'coding' and 'programming'. With CMS's it's just like using a word processor you're already used to using like Microsoft Word or Open Office.
Having the content editor makes it easy to format posts so that they are easy to read and well organized. Having the ability to control the formatting improves overall usability and search engine optimization.
Multiple User Access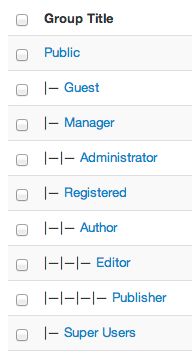 Like in the picture above you can see that there can be different roles or, in Joomla's case, groups. Groups help you determine what a user's permissions are. Learn how to add a Joomla user.
With any CMS one of the core tools is it's ability to house lots of different users. Users can have different levels of permission. Some can be editors, some can be authors, some can be administrators and so on. It depends of the roll you want them to have. User access management helps you keep up with all of your members and subscribers as well as who can do what on your site. Some sites have lots of contributors and others have a select group of administrators, for example.
Customization

Web design opportunities arise when you can create a template that can fit the whole of your website. The good thing about CMS's is one template can fit the whole site. Customization can be done once and it is set for all pages.
That's not it though, with Content Management Systems like Joomla you can add new extensions that are not included in the core Joomla installation. Some examples are Akeeba Backup, JCE or sh404SEF. These all help you manage your site better.
Interactivity
People have high expectations for websites these days. If you have a blog without comments you will certainly diminish the value of community feedback. When building a brand online it is essential to keep in constant contact with users and develop a presence online. It comes in handy having the functionality built into CMS's like Joomla.
Conclusion
When it comes to websites, almost all new websites are created with some type of CMS. It really is the way of the future for website development. Millions of websites already run them and this base will only continue to grow.
Joomla Resources