We are often asked who has the fastest servers, it is hard to say, there are so many variables. After running this site for almost 10 years I definitely see trends. One is a companies or Individuals preference for well known, giant hosting companies over CMS specific new generation hosting companies.
So we decided to take a look at a Joomla website hosted at Network Solutions for several years and then moved to CloudAccess.
Monitoring Procedure
We use Pingdom to monitor many of our personal and customer sites. We configured Pingdom to check the site every 5 minutes to see site is up and how fast the pages load.
It is helpful because it lets you know when the site is down and shows you any troubling trends over time.
Key Dates
October 21, 2013 site monitoring started. Site hosted on a VPS at Network Solutions.
December 20, 2015 Site was moved from Network Solutions to CloudAccess.net
September 30, 2016 the graph stops and this post was created.
Case Study Results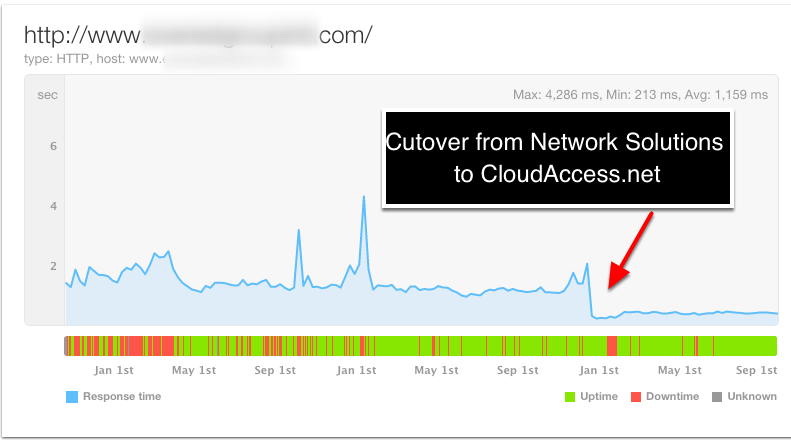 Great you showed me some graph that looks complicated but I am not sure what it means.
Blue Line
The blue displays how long all of the html elements take to display in a browser.
The faster the pages are load, the lower the blue line will be. The more level the blue line is, the more consistent and stable the servers is.
When hosted at Network Solutions the pages loaded slower and experienced serveral issues when the server was extremely slow. The spikes in the line are the days the pages were barely usable.
When the site is moved over to Cloud Access the page load times dramatically decreased and a more consistent user experience was provided.
Green & Red Lines
When the site is up, a green line is shown, when the site is down a red line is shown.
You can see when hosted at Network Solutions the site experienced much more down time. You will notice quite a bit of downtime when we first started monitoring the site.
The site was then moved to CloudAccess.net and the downtime really decreased. Some downtime is due to Joomla and website content updates. The block of red was a week or so where a data center router was experiencing and issue.
No hosting company will ever deliver zero downtime but how the hosting company responds is what makes the difference.
Why .
So here is the deal. A client we have worked with for several years was originally hosting at Network Solutions. The big very well known internet hosting company. They were paying a lot of money for their hosting package. The site is a small low traffic site, but also very important site. When they registered their domain, a slick salesman convinced them they needed this over the top hosting solution.
I put uptime monitors on most of our client sites just so we can get a good idea of what is going on and see the trends over the years. Today I thought I would take a look at this particular site and I was super impressed with how much better the site was doing. Take a look for yourself.
Network Solutions Uptime Graph

Cloud Access Uptime Graph

Other Information
What about the cost of the hosting?
Networks Solutions VPS Hosting is considerably more expensive than hosting at Cloud Access I know what they were paying at network solutions and what they pay with cloud access. Without giving specific numbers they are getting a much higher quality level of hosting for 75% less money.
What about the quality of hosting support?
When working with Network Solutions it is usually a long chain of support tickets and add on charges.
As a Joomla web developer, I found Cloud Access much easier to work with. The server environment is perfect for Joomla, all extensions installed and worked, and life is generally better at CloudAccess. This also meant I was able to spend more hours improving and adding functionality to the site rather than tracking down server updates.
What was the catalyst to move the site from Network Solutions to Cloud Accces?
The server was experiencing some security issues. The plesk server software was so old it could not easily be updated requiring considerable time and resources. We also have had good experience with Cloud Access for hosting business and corporate websites.
Why are we not showing the name of the website?
That is partly because they are a client and would prefer not to have their name mentioned as a "What not to do Example". If you really must know email me and I can review the case and provide more specifics.
Would I recommend Cloud Access to other businesses?
This is always a case by case decision. In general we have a great experience with CloudAccess. If you would like any additional information use the contact form at Intown Web Design